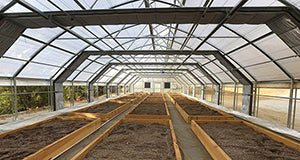 Conley's is proud to introduce the development of four different style greenhouses with the integration of fully automated light deprivation features. These systems were designed as turnkey solutions for growers of any size in the need for an automation of light cycles.
With the help of Conley's Manufacturing, Duarte Nursery, located in Hughson, CA (Modesto) has been in construction mode for about 3 years now. The permanent crops nursery has reached approximately 25 acres in new growing space with the addition of multiple greenhouses and outdoor benching systems.
It's been a busy tradeshow and expo year for Conley's Manufacturing & Sales and it's not quite over yet. Conley's had the pleasure of exhibiting at a number of events all over of the country this year to promote several exciting new product developments. Even more tradeshows are planned for the 2015 year.